HOW TO ENTER
Step 1
Record the loveliest video of your loved ones (your baby, pets or anyone else you love)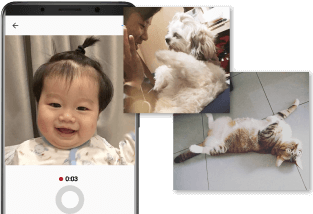 Step 2
Write a loving caption on why he/she deserves an "iT" Cordless Stick Vacuum Cleaner
Step 3
#PanasonicLoveMeans
#PanasonicLiving
#PanasonicMalaysia
and tag
@mypanasonic
on your Instagram post.
(Please set your Instagram account to public.)
If you win our hearts, you win the prize!
The 3 most creative entries will win an
"iT" Cordless Stick Vacuum Cleaner
Terms & Conditions
The "Panasonic Malaysia Couple House Chores Challenge Terms and Conditions" (The Contest) is organized by PANASONIC MALAYSIA SDN. BHD. (26975-W) hereinafter referred to as "PANASONIC".

The Contest is hosted on http://lifestyle.my.panasonic.com/pmlovemeans

The Contest runs from 9 February 2018 10:00:00 to 4 March 2018 23:59:59 following (UTC+08:00) Kuala Lumpur, Malaysia time zone.

All entry submissions must be received by our system by 11:59:59 (Malaysian Time) of the last day of the Contest in order to qualify. Late entry submissions will not be entertained and the decision is final and not appealable. Time of entry submission is based on designated system's recorded time.

All submissions shall be approved by the Contest's designated system. Only submissions which are compliant with the Contest Terms and Conditions and accepted by the Contest's system shall be eligible for this Contest for the Prizes.

How To Participate

To participate in the Contest, participants must:

Step 1: Record a short video (max 1 minute) of your loved one(s).
Step 2: Write a caption explaining why they deserve the Panasonic "iT" Cordless Stick Vacuum Cleaner.
Step 3: Upload your video on Instagram, hashtag #PanasonicLoveMeans #PanasonicLiving #PanasonicMalaysia and tag us @mypanasonic. Entries must be made public.

Participants are allowed to submit more than one (1) entry throughout the Contest Period but only eligible to win ONE (1) prize only.

In determining whether an Entry is a valid Entry, Panasonic's decision shall be final and conclusive. Panasonic will take into account all factors deemed relevant by Panasonic which may include but not limited to the following criteria:-

The Entry needs to be original and not a material duplication, copy or reproduction of other entries;

The Entry is not offensive, illegal or insensitive to any segment of society, etc.

How To Win

Panasonic Jury Panel shall view and select three (3) winners with the most creative and fun videos subject to ascertained criteria therewith.

All decisions in regards to the winners are final. No further correspondences or appeals will be entertained.

THE PRIZES

Grand Prizes – THREE (x3) "iT" Cordless Stick Vacuum Cleaner worth RM2959

In the event that:

The winner is disqualified;

The winner cannot be contacted by PANASONIC for five (5) continuous working days to conduct the verification and prize claiming process;

The registration details winners submitted is found to be ineligible for any reasons herein;

There is a failure to claim the Prize.

The Prize may be forfeited and PANASONIC reserves the right to select a new winner.

All Prizes will be sent via courier service within sixty (60) working days from the date the campaign ends, i.e. – 9 February 2018. PANASONIC, its employees and all its organizers shall have no liability whatsoever for any loss, injury, claims, damages or expenses arising out of, or in connection with this Contest or the use of the Prize.

PANASONIC is entitled to replace any of the Contest Prizes with another item of similar value at any time without any prior notice.

The winners agree to the use of his/her name and image in any publicity material in connection to this Contest. All participants are required to provide the following details and they will be used by PANASONIC to contact the Contest participants:

Full Name

Mobile Number

E-mail Address

PANASONIC may or may not publish the names of the winners on the website of the Contest and it is PANASONIC's absolute discretion if they choose to do so or not, and their decision is final.
General Terms And Conditions:

PANASONIC reserves the right to exercise its discretion to accept, disqualify, modify, suspend or cancel any Entry Application, where and when deemed necessary, in respect to any violation or potential violation of any Terms and Conditions stipulated herewith.

This Contest is open to all Malaysian residents, aged 18 years and above at the time of entry. Employees of PANASONIC, their families (immediate and distant), friends, organizers, suppliers, agencies, participating dealers, and service providers are strictly prohibited from participating in this Contest, and if they are found to have entered the Contest, their entry/entries will be cancelled immediately.

PANASONIC shall disqualify any Entry Application, whereby in its opinion and discretion, a participant has deliberately or negligently submitted a media content deemed obscene, defamatory, indecent, politically provocative or generally offensive in nature. Any Entry Application submitted containing fraudulent information using false identity or other particulars with the intention to deceive or misrepresent PANASONIC shall be disqualified accordingly.

PANASONIC shall disqualify, delete and remove any Entry Application submission found to be tampering, disrupting or infecting the network content service system of this Contest with malicious software thereby affecting the overall application and registration process of this Contest.

Where appropriate in view of relevant circumstances, relevant criminal liability and/or civil action may be contemplated by PANASONIC against any person responsible in contravention of Clause 2 and Clause 3 above upon being advised.

PANASONIC reserves the right to exercise its absolute discretion to enforce, exempt, amend, remove or determine any Terms and Conditions of this Contest, at any time without prior notice. Accordingly, PANASONIC reserves the right to exercise its absolute discretion to cancel, postpone, suspend, modify or terminate this Contest at any time without reason or prior notice.

The Prizes are not exchangeable for cash or any other goods and are non-transferable. PANASONIC reserves the right to vary or substitute the Prizes without any prior notice.

In the event of any dispute including but not limited to claiming of awarded prizes, Winners shall provide proof to verify the ownership of the wining Facebook account entry and/or email account of notification of the same. Subsequent decision made thereon by PANASONIC shall be final and binding onto the parties of the dispute.

Participants agree to allow PANASONIC to use all information obtained throughout the application and registration process of this Contest. PANASONIC may, for this purpose disclose any such information to third parties as may be required in accordance to proper business practise. PANASONIC is committed to the protection of participants' rights to privacy pursuant to the Personal Data Protection Act 2010 and relevant regulation thereof. PANASONIC ensures all personal information shall be processed diligently in compliance to existing law.

Upon providing information for the application and registration of this Contest, participants unconditionally and irrevocably undertake to PANASONIC that such information supplied shall not in whatsoever way infringe any third party's legal rights. In the likely event of any monetary claim or legal proceeding is initiated against PANASONIC pursuant to the use of such information, the participant whom supplied the said information shall be made liable to indemnify PANASONIC for any loss, damage or other liability arising therewith.

This Contest is in no way sponsored, promoted, endorsed and/or managed by, or associated with Facebook or any other affiliated parties. Participants upon applying and submitting the Entry Application of this Contest are deemed to have wilfully supply information exclusively to PANASONIC only.

Any subsisting Intellectual Property rights either whole or part in any compilation, collective work, or other derivative work created relation to this Contest shall be owned and/or authorized, licensed or assigned by PANASONIC by law and/or common law.

PANASONIC shall not be liable to any monetary compensation, reimbursement or indemnity arising from any death, losses, personal injuries, claims, property damages or expenses to any party throughout the duration of this Contest.

For any whatsoever reason, where any part of this Contest is not capable of being executed as planned by reason of, but not limited to, the infection by computer virus, bugs, tampering, unauthorized interception, fraud, negligence, technical failures or any other causes beyond the control of PANASONIC whereby having corrupted or affected the administration, security, fairness, integrity, or proper conduct of this Contest, PANASONIC reserves the right to exercise its absolute discretion to disqualify any entry and/or cancel, terminate, modify or suspend this Contest. PANASONIC in doing so shall not be liable or responsible thereof.

This Contest and these Terms and Conditions will be governed by Malaysian law.
WHAT IS "iT"?
Think thin for the easiest, fastest clean. Our "iT" Cordless Stick Vacuum Cleaner fits under heavy furniture, into corners and even in tight spaces. Now you and your family can enjoy a clean, healthy home without the hassle.

UNIQUE "iT" SWIVEL NOZZLE
Seamless cleaning in tight spaces
One-twist transformation

FULL CAPTURE POWER NOZZLE
Powerful cleaning even in corners
Edge-to-edge, corner-to-corner clean

HOUSE DUST SENSOR
Adjustable suction power
Detects invisible dust and adjusts suction power accordingly
2-in-1 Handy cleaner
Lightweight and powerful
Slim & stylish storage
Runs up to 30 mins on one charge
Colors
See Full Product Details
BUSTING DUST THE "iT" WAY
See how local celebrities & personalities use the Panasonic "iT" Cordless Stick Vacuum Cleaner to keep their home dust-free for their loved ones.
Cheesie
Patricia
Johan
Syatilla
SPREAD THE LOVE NOW!
RECORD A VIDEO, CAPTION IT, AND POST ON INSTAGRAM NOW!